by Fred Fuld III
It's nice that you get cash back or rewards points when you use your credit card. It's also great when you can get rewards from the company you make purchases from. It's like double dipping.
But wouldn't it be great if you could triple dip. How would you like to receive free stock in the companies that you buy from? Well now it's possible.
There is a company called Bumped, which allows you to have a percentage of your purchase go towards fractional shares of stock in those companies. The percentage isn't a lot but it adds up over time.
For example, if you buy rom Starbucks (SBUX), you get 2% of your purchase price going towards the company's stock. If you buy from ExxonMobil (XOM), you get 0.5%. The range goes all the way up to 3% defending on the type of business.
Here are the categories and their percentages:
Coffee  2%
Gas/Convenience Stores  0.5%
Entertainment  2%
Family Dining  2%
Personal Care  1%
Quick Eats  3%
Vineyards  1%
So, for example, if I buy food and a beverage at Starbucks, and I pay with my cash back American Express (AXP) card, I will get the cash back bonus from AmEx at the end of the month. Plus, if I'm a member of the Starbucks rewards program, I get those benefits. Finally, if I have linked my AmEx card to Bumped, I get 2% of my purchase applied to the Starbucks stock.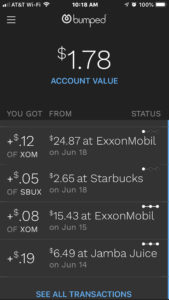 There are a wide range of companies that are participating in this program. Just in the Quick Eats category alone, there is:
Burger King
Chipotle (CMG)
Jamba Juice
McDonalds (MCD)
Subway
Now you may ask, what about the private companies that are listed, such as Jamba Juice and Subway? Well, if you purchase from Jamba Juice, your 3% is applied towards the Vanguard Total Stock Market Index Fund ETF (VTI).
So when I bought a Jamba Juice recently, I got cash back on my AmEx card, I got more Jamba Juice  points since I'm a member of their rewards program, and I got 3% of my purchase automatically invested in VTI.
Other companies that are part of the program include Peet's Coffee, BP (BP), Chevron (CVX), Shell (RDSA), Netflix (NFLX), Spotify (SPOT), Lyft (LYFT), Uber (UBER), plus several restaurants and other businesses.
Unfortunately, there is a waiting list for Bumped, (they don't want to get overwhelmed as they are growing) but once they notify you that you are eligible, you can jump on the triple dip bandwagon.
Disclosure: Author owns MCD, VTI, SBUX, & XOM. I did not receive any compensation from Bumped.