Maybe it's just a coincidence but California just legalized recreational marijuana a couple months ago and now Apple (AAPL) has filed a patent for a vaporizer, often referred to as a vape. Vapes are commonly used to smoke cannabis.
According to a recent article in Gizmodo, Apple filed the application back in July and was posted yesterday on the USPTO website.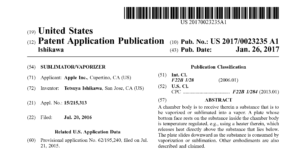 According to the abstract, "A chamber body is to receive therein a substance that is to be vaporized or sublimated into a vapor. A plate whose bottom face rests on the substance inside the chamber body is temperature regulated, e.g., using a heater therein, which releases heat directly above the substance that lies below. The plate slides downward as the substance is consumed by vaporization or sublimation."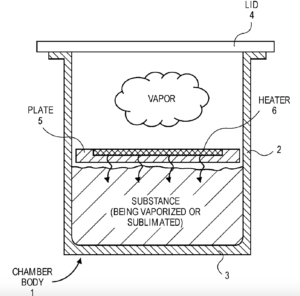 Who knows what plans Apple has for this device? Who would have thought that a large cap stock like Apple might come out with a product that could be used in the marijuana (cannabis, hash, hemp, ganja, weed) industry?
Disclosure: Author owns AAPL.