by Fred Fuld III
It may be hard to believe, but some of the filings that public companies make to the Securities and Exchange Commission actually contain some dirty words. Occasionally, you may find an "F bomb" or an "S bomb" in one of these documents.
Sometimes the word is a typo, sometimes it is quoting from a conversation, and some times the company really means to say it.
The "F" Bomb
EX-10.8 of 10-Q for Grand Canyon Education Inc. (LOPE) has a list of derogatory domain names that it "purchased as a protective measure."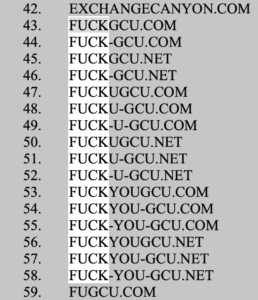 This one for City National Bancshares looks like it may be the job of a hacker or maybe an attorney who thought he was sending a text to someone at the time.

Here is an example of a filing with a quote of "such blasphemy" that someone  said that appears in the Chapman Capital Schedule 13 D from several years ago.

The "S" Bomb
A more recent example is Shopify (SHOP). On its Exhibit 1.1 for the Form 40-F [2016 Annual InformationForm], the "S" word is shown in the Culture & Employees section.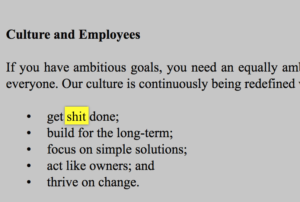 LendingClub (LC) has what appears to be a typo for an occupation on its Form 424B3. Doesn't sound like a job anyone would want.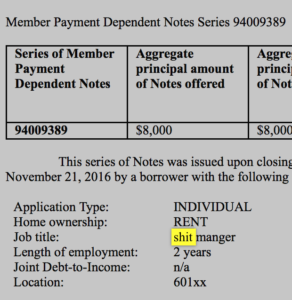 These are just a few examples. If you have a lot of free time on your hands, I'm sure you can find more.